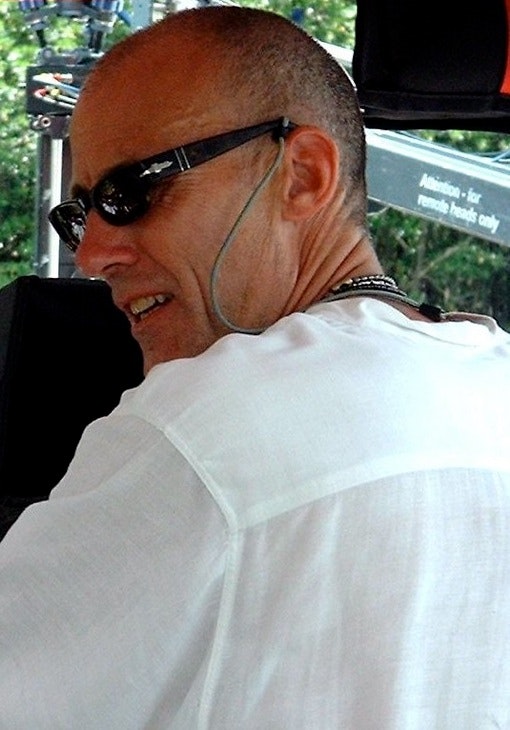 Welcome to my website/archive. I hope you get some idea about my work as well as a sense of the aesthetic and practical thought processes that motivated what you see. To see notes click on the info button (i) below each video.
MIKE SOUTHON bsc aco(hon)
Mike joined BBC TV's film unit at Ealing Studios and travelled the world on news, music and arts, documentaries and drama productions.
Recognition of his work first came with seven documentaries shot in Bolton England about the inner workings of a large hospital. The series won many prizes including the prestigious Prix Italia. He was principal cinematographer on BBC2's ARENA which won five BAFTA's in a row. He also worked on Omnibus photographing documentaries with The Royal Ballet and Ballet Rambert. He gained a reputation for working on "difficult" subjects including films about Sex Change and Remand.
Mike left the BBC to freelance. He quickly made his mark in music videos for artists such as U2, Prince , GEORGE MICHAEL, TORI AMOS, SEAL, MICHAEL BOLTON, DEPECHE MODE, winning two best photography awards for his MTV work for FREEDOM (George Michael) and NOVEMBER RAIN (Guns & Roses).
He has shot and occasionally directed award winning TV commercials for clients and companies around the globe.
Mike has photographed many features including, NUTCRACKER 3D for director, Andrei Konchalovsky, ST. GEORGE'S DAY for director Frank Harper, GOTHIC and PRISONER'S OF HONOR for Ken Russell. PAPERHOUSE for Bernard Rose, Universal's KISS BEFORE DYING for James Dearden, Orion's LITTLE MAN TATE for Jodie Foster, Castle Rock's RUN OF THE COUNTRY and Interscope's ROOMMATES for Peter Yates, Paramount's EMILY BRONTE'S WUTHERING HEIGHTS, Interscope's SNOW WHITE - A TALE OF TERROR for which he received 19th Annual CABLEACE Nomination for Best Cinematography and an ASC Nomination for Best Cinematography for a Mini Series made for Television Movies. Su Armstrong and Tony and Ridley Scott produced RKO 281 which was directed by Ben Ross and received a Golden Globe for Best Motion Picture made for Television. He works regularly with director Jamie Payne on one-off TV dramas , Lifeline, Little House, U B Dead and most recently Dr who.
In addition to his cinematographer duties Mike has directed the feature film Air Bud Strikes AIR BUD STRIKES BACK for Disney and BUBBLES a short film for producer Peter La Terriere
He has completed two screenplays, "Improperly Dressed" adapted from the novel The Antique Collector" by Glynn Hughes.
and "The Third Land" a ghost story set against the fall of Saigon.
As well as smaller arts documentary projects Mike directed and produced a 1 hour film entitled "PALMER & ME that follows the processes and forms contemporary artists use to create their reaction to living with one of Samuel Palmer's etchings.
Mike produced & directed "The Millinery Lesson", a one hour documentary film about the career and extraordinary life of 95 year old Royal Milliner, Marie O'Regan. The film is at present streaming on the French streamer Point de Vue and the UK's TVplayer

He has recently produced and directed a 40 minute film, JOINED UP THINKING, for Eames Fine Art for their Common Place project.
Mike has just completed directing a 90 minute film , THE MYSTERIOUS REGISTER, a film portrait of counter tenor Anthony Roth Costanzo, which he co produced with Jeremy Young.
He is, at present, directing two films for Eames Fine Art on master printmaker Norman Ackroyd RA.
The first , NORMAN ACKROYD - UNMASKED, has just completed post production.
He is at present shooting and writing a 1 hour documentary entitled THE PRESS featuring master printmaker Jason Hicklin.
He also directs & shoots fashion films.
Mike is a Past President of the British Society of Cinematographers and an honorary member of the Association of Camera Operators.
He has run lighting, lens and composition workshops at Camerimage, Poland and at The London International Film School in London where he also a mentor to past graduate Reem Morsi.
He is jury chairman for the BSC/ACO/GBCT Camera operator awards and is proud to host the BSC Awards show every year from the Grosvenor House ballroom.

contact +44 (0)7525940268
email : mikesouthon@mac.com
---