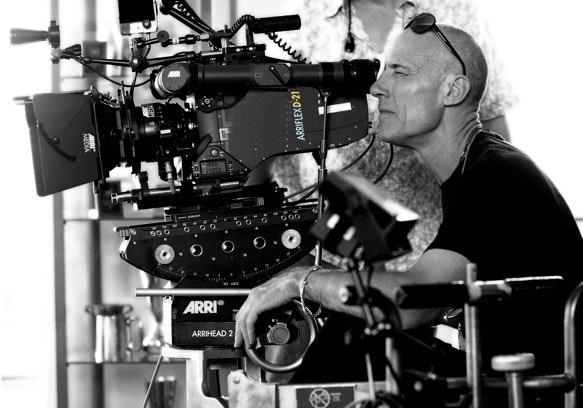 DRAMA
DR WHO- the hider in the house Director: Jamie Payne BBC tv.

ST.GEORGE'S DAY Director: Frank Harper
Independent feature film. Metrodome

SPOOKY BUDDIES Director:Robert Vince
Feature film Production Co:The Walt Disney Co / Key Pix Productions

THE LITTLE HOUSE Director: Jamie Payne
TV MOVIE adaptation of Philippa Gregory's best selling novel, The Little House.
Featuring: Francesca Annis Tim Piggot Smith Rupert Evans Lucy Griffiths
Producer : Jeremy Gwilt Prod. Co TXTV for ITV1

U B DEAD Director: Jamie Payne
TV MOVIE Psychological Thriller based on a true story
Producer: Elinor Day
Featuring: David Morrisey-Tara Fitzgerald
Production Co: Darlow Smithson Productions Ltd for ITV


THE NUTCRACKER 3D Director: Andrei Konchalovsky
Feature film 90 mill $ 3d musical fantasy Producer: Paul Lowin Location: Budapest
Featuring:John Turturro- Elle Fanning – Richard E. Grant Production Co: Noisette Films
shot on SUPER35 2.85:1

NEUTRAL CORNER short film
Director: Emily Greenwood Producer: Simon Hinkley
shot on SUPER35 2.35:1 Kodak Best Short Film 2007

LIFE LINE Director:Jamie Payne TV MOVIE Supernatural Thriller
Producer: Gereth Neame/Tim Bradley Location: London (various)
Featuring: Joanne Whalley, Ray Stevenson Production Co:Carnival Films
shot on SUPER16

THE MERMAID CHAIR Director:Steven Schachter
TV MOVIE Contemporary Drama (HI DEF)
Producer: Mike Frislev, Chad Oakes Location: Vancouver Island
Featuring:Kim Basinger, Bruce Greenwood Production Co:Nomadic Pictures

AIR BUDDIES Director:Robert Vince Feature film Family Comedy
Producers:Robert Vince, Anna McRoberts
Location: Vancouver
Featuring: Slade Pearce, Trevor Wright Christian Pikes, Paul Rae
Production Co:The Walt Disney Co / Key Pix Production1

BENEATH Director:Dagen Merrill Horror/Thriller
Producers:Sean Covel, Chris Wyatt Location: Vancouver
Exec Producers: John Fiedler, David Kaye
Featuring: Nora Zehetner, Matthew Settle, Gabrielle Rose
Production Co:MTV Films / Paramount Classics
shot on SUPER35 1.85:1

PURSUED Director:Kristoffer Tabori Thriller
Producers: Daniel Grodnik, Alison Semenza James Shavick, Kirk Shaw
Location: Vancouver
Featuring:Christian Slater, Gil Bellows Estella Warren, Michael Clarke Duncan
Production Co:Artisan Ent. / Trademark Ent.


SPYMATE Director:Robert Vince Family
Producer:Anna McRoberts, Robert Vince Location: Vancouver
Featuring: Chris Potter, Richard Kind Emma Roberts, Michael Bailey Smith
Production Co:Keystone Pictures / Miramax Film


REPLICANT Director:Ringo Lam Action Sci-Fi Thriller
Producers: Danny Lerner David Dadon, John Thompson Location: Vancouver
Featuring: Jean-Claude Van Damme Michael Rooker, Catherine Dent
Production Co:Millennium Films / Artisan Ent

SORTED Director:Alexander Jovy Thriller
Producers:Mark Crowdy, Fabrizio Chiesa Location: London
Featuring: Matthew Rhys, Sienna Guillory Fay Masterson, Tim Curry
Production Co:Jovy Junior Enterprises

TRICKS Directors:Jim Klein, Iris KleinDrama
Producers:Jim Klein, Iris Klein, Ted Melfi Jefferson Donald Locations: Chicago, Las Vegas, Los Angeles
Featuring:Gail O'Grady, Stephanie Romanov Erika Alxander, Michael Murphy
Production Co:Dog & Pony Prods / Museum Bank Pics

The Diamond Halo Award – Angel City Film Festival, Los Angeles

RKO 281 Director:Benjamin Ross Period Drama about Orson Welles and the making of Citizen Kane
Producer:Su Armstrong Exec Producers: Tony Scott, Ridley Scott Location: London
Featuring: Liev Schreiber, James Cromwell Melanie Griffith, John Malkovich Brenda Blethyn, Roy Scheider
Production Co:Scott Free Productions / HBO

Golden Globe for Best Motion Picture made for Television

AIR BUD Director:Charles Martin Smith Family Comedy Drama
Producers:Robert Vince, William Vince Exec Producers: Bob Weinstein, Harvey Weinstein Location: Vancouver
Featuring:Michael Jeter, Kevin Zeegers Wendy Makkena, Bill Cobbs
Production Co:Walt Disney Pictures / Keystone Picture

SNOW WHITE: A TALE OF TERROR Director:Michael Cohn Fantasy Horror
Producer:Tom Engleman Exec Producers: Robert Cort, Ted Field, Scott Kroopf
Locations: Czech Republic, Germany
Featuring: Sigourney Weaver, Sam Neill Gil Bellows, Brian Glover
Production Co:Interscope Communications/PolyGram Filmed Entertainment

CableACE Nomination for Best Cinematography in a Movie or Miniseries
ASC Nomination for Outstanding Achievement in Cinematography in Movies of the Week

THE FINAL CUT Director:Roger Christian Action Thriller
Producers: Robert Vince, William Vince Location: Vancouver
Featuring: Sam Elliott, Charles Martin Smith Anne Ramsay, Lloyd Berry
Production Co:Cine Cut Films Inc/Keystone Entertainment

RUN OF THE COUNTRY Director:Peter YatesDrama
Producers:Peter Yates, Ruth Boswell Exec Prods: Morgan O'Sullivan, Nigel Wooll Location: Ireland
Featuring: Albert Finney, Matt Keeslar Victoria Smurfit, Anthony Brophy
Production Co:Castle Rock Entertainment/Columbia Pictures

ROOMMATES Director:Peter Yates Comedy Drama
Producers:Scott Kroopf, Ted Field, Robert Cort Locations: US (Indianapolis, Pittsburgh)
Featuring: Peter Falk, Julianne Moore D B Sweeney, Ellen Burstyn
Production Co:Hollywood Pictures / Buena Vista Pictures

Emily Bronte's WUTHERING HEIGHTS Director:Peter Kosminsky Period Romantic Drama
Producer: Mary Selway Location: UK (Yorkshire)
Featuring:Juliette Binoche, Ralph Fiennes
Production Co:Paramount Pictures

PRISONER OF HONOUR Director:Ken Russell Period Drama
Producers:Richard Dreyfuss, Judith James Location: UK
Featuring: Richard Drefuss, Oliver Reed Peter Firth, Jeremy Kemp, Brian Blessed
Production Co:Dreyfuss/James Prods / Warner Brothers

LITTLE MAN TATE Director:Jodie Foster Drama
Producers: Scott Rudin, Peggy Rajski Locations: US, Canada
Featuring: Jodie Foster, Dianne Wiest Adam Hann-Byrd, Harry Connick Jr
Production Co:Orion Pictures

CHICAGO JOE AND THE SHOWGIRL Director:Bernard Rose Period Romantic Drama
Producer:Tim BevanLocation: London
Featuring: Emily Lloyd, Kiefer Sutherland
Production Co:Working Title Films / New Line Cinema

QUEEN OF HEARTS Director:Jon Ariel Comedy
Producer:John Hardy Locations: UK, Italy
Featuring: Vittorio Duse, Joseph Long, Anita Zagaria Eileen Way, Vittorio Amandola, Roberto Scateni
Production Co:Channel Four Films / Cinecom Pictures

PAPERHOUSE Director:Bernard Rose Fantasy Horror Mystery Drama
Producers:Tim Bevan, Sarah Radcliffe Location: UK
Featuring: Charlotte Burke, Samantha Cahill Glenne Headly, Gemma Jones
Production Co:Working Title Films

GOTHIC Director:Ken Russell Dramatic Period Horror/Thriller
Producer:Penny Corke Location: UK
Featuring: Gabriel Byrne, Julian Sands Natasha Richardson, Timothy Spall
Production Co:Virgin Vision

CAPTIVE Director:Paul Mayersberg Drama
Producers:Don Boyd Location: UK
Featuring:Oliver Reed:Irina Brook
Production Co:VIRGIN VISION
COMMERCIALS (selection)
MINT CREDIT CARD – Cat Burglar
Elliot Goldner
Traffik
PANADOL
Reto Salembeni
Manifesto Films
LEGO Clikits – Shopping Heaven
Jake Nava
Independent Film
RAS – Insurance
Andy Morahan
Bikini Films
COI – Department Of Transport
Alex Jovey
The Business
VODAPHONE
Andy Morahan
Harry Nash Films
CALGONITE - Two Mums
Gareth Roberts
HRH Films
FINDUS – Fish and Sauce
Gareth Roberts
HRH Films
KODAK (Ultra) – Superman
Tim Pope
Cowboy Films
CABLECOM – Escape & Dog
Reto Salembeni
Glass Film
ONCE
Eduardo Maclean
Spika Films
RENAULT CLIO SPORT – Dogs
Eduardo Maclean
Spika Films
TELEFONICA – Atento
Eduardo Maclean
Spika Films
JOHN SMITH'S BITTER – Take it Easy
Andy Morahan
Paul Weiland Film Co
BICO – Image Campaign
Reto Salembeni
Glass Film
HERO – Fruitkiss
Reto Salembeni
Glass Film
KUONI (Switzerland)
Jonas Frick
Outsider
SANOGYL Toothpaste
Rebecca Blake
Quad Productions
CARLING BEER – Football
Andy Morahan
Paul Weiland Film Co
WEIHENSTEPHAN - Trane & Himbeere
Marcello Schnyder
Neue Sentimental Film
AMADORI
Jonas Frick
BRW
RED MAGAZINE
Andy Morahan
Paul Weiland Film Co
ZURICH 98 – Invest
Reto Salembeni
Glass Film
SWISSCOM 98' - Blue Window
Marcello Schnyder
Glass Film
SONY – Territory idents for George Michael
Mike Southon
Bug Films
PUBLIC INFORMATION FILM - Peace in Bosnia
Nick Metcalf
Pathfinder Ltd
NESCAFE - Coffee Jar
Gareth Roberts
BFCS
CHEERIOS - River & Family
Gareth Roberts
BFCS
CELLNET - CP38
Chris Palmer
Gorgeous
CAFÉ NOIR
Jonas Frick
Outsiders Ltd
CHEERIOS - Cheeri-Ad
Gareth Roberts
BFCS
THE TIMES - Richard Branson
Gareth Roberts
BFCS
ERICSSON PHONES
Jonas Frick
Gem Films
SUNDAY TIMES
James Lebon
Films Ltd
FARRIS MINERAL WATER
Jonas Frick
Gem Films
INSURANCE - Wusternrot
Pelle Seth
Markenfilm
TELENOR MOBILE PHONES
Jonas Frick
Bates Films
TUC CHEESE BISCUITS
Pelle Smith
Markenfilm
CANON PHOTOCOPIERS
Frederico Brugia
BRW
DUTCH UNIBANK
Jonas Frick
Trouble with Harry Films
CORNETTO
Mike Southon
Global Communications
STIMROL – God & Gas Station
Jonas Frick
Gem Films
AUDI
Marcus Nispel & Mike Southon
BRW Partners SRL
FRENCH LOTTO - Teenage & Birthday
Simon Levene
Rose Hackney Barber
CABLE TV – Cable Communications-Peter Richardson-Tiger Aspect
FLEUR, EUROWAY-Jonas Frick-Gem Films
Florence Film Festival – Best Photography
SHELL-Meno Zeissen-Zeissen Film Company
COI AIDS CAMPAIGN – Tracing & Alan-Mike Newell-The Producers-BTA Bronze Award
MUSIC VIDEOS (selection)
GEORGE MICHAEL –Where You Are-Andy Morahan-Bikini Films
DEADMAU5 at CREAMFIELDS-Mike Southon/Sam McCourt-Metropolis
GEORGE MICHAEL – Round Here-Andy Morahan-Bikini Films
GUNS N ROSES-November Rain-Andy Morahan
ANNIE – Chewing Gum-Barnaby Roper-Flynn
PHIL COLLINS – No Way Out-Norman Watson-FM Rocks UK
U2 - One-Anton Corbin-STATE
PRINCE- Cream Diamonds and Pearls-Rebecca Blake
BLOW MONKEYS- Digging Your Scene
MYSTEEQ - Scandalous-Jake Nava-Battlecruiser
PRETENDERS-Andy Morahan-Paul Weiland Film Co
FIVE - Slam Dunk Da Funk-Laurence Watson-Sarah Bayliss Productions
KINANE – Business-Max & Danya-Partizan
BON JOVI – This Ain't Love-Andy Morahan-Panic Pictures
INGOGNITO – Every Day-Tim Royes-The Artistes Co
SOUL TO SOUL – Soul to Soul-Marcus Nispel-Axis
Bananarama-Venus--Love in the first degree-I heard a rumour
HUMAN LEAGUE – Tell Me When--Andy Morahan-Panic Pictures
EDDI READER – Dear John-Angela-State
SEAL - A Prayer for the Dying-Paul Boyd-Propaganda
PAUL WELLER - Sunflower-Mark Neal-Kudos
GEORGE MICHAEL – Monkey-Andy Morahan-Vivid
GEORGE MICHAEL – Faith-Andy Morahan-Vivid
GEORGE MICHAEL – Too Funky-Andy Morahan-Vivid
GEORGE MICHAEL – I Want Your Sex- Andy Morahan-Vivid
GEORGE MICHAEL – Freedom-David Fincher
DOCUMENTARIES (selection)
The Madonna and the Volcano [prod: Mike Radford doc/54m; cph: John Hooper; ep 3-part 'Omnibus Italia'-season (part of BBC-tv arts series 'Omnibus')
Hospital [Roger Mills] 9-part doc series for BBC-tv; cph: Grenville Dobson -episode 1 Casualty won Prix Italia Bafta
Seeing Through Drawing [Michael Dibb] doc/119m; cph: John Hooper; ep BBC-tv arts series 'The Lively Arts
A Change of Sex [ep #1 'George - The Big Decision' & #2 'Julia - The First Year' dir by David Pearson] 3-part series/16mm, 1980; cph (#2):
1980 In the Making [ep #2 (19m) 'Lute Making - Stephen Gottlieb' & #7 (19m) 'Theatre Design - Pamela Howard'; series prod: John Read] 9-part BBC-tv doc series;
Dallas The Big Store [Jana Bokova] doc/53m; ep (1981) BBC-tv arts series 'Omnibus'
Chelsea Hotel [Nigel Finch] doc/55m; ep (1981) BBC-tv arts series 'Arena'
Feeling for the Sound [Dave Hutt] mus doc/29m; ep #4 of 6-part series 'Sounds Different'
Dire Straits [Nigel Finch] mus doc/58m; ep BBC-tv arts series 'Arena'
When the Dancing Had to Stop [series prod: Leslie Megahey] doc/60m; BBC-tv arts series 'Omnibus'
The Leader's Tale [prod: Tony Laryea] doc/48m; ep #12 of 12-part BBC-tv series 'Tales of Twelve Cities'
Behind the Scenes with... John Glenister [Christopher Swann] doc/29m; ep #8 of 10-part BBC-tv series 'Behind the Scenes with...'
The Great Art Dictator [prod: David Wallace] doc/54minutes
Desert Island Discs [Anthony Wall] doc/47m; ep (1982) BBC-tv arts series 'Arena'; repeated in January 1992 with new introduction
Survivalists [prod: Paul Hamann] doc/48m; ep BBC-tv series 'The Tuesday Documentary'
Upon Westminster Bridge [Anthony Wall] doc/52m; ep BBC-tv arts series 'Arena'
Burroughs [Howard Brookner] doc/b&w-c/85m; cph: Tom DiCillo, Richard Camp, James Lebovitz, a.o.; ep (1983) BBC-tv arts series 'Arena'; also released theatrically
Where's the Key? [David Wheatley] tvm/65m
Kurt Vonnegut [: So It Goes] [Nigel Finch] doc/60m; ep BBC-tv arts series 'Arena'
Borges and I [David Wheatley] doc/75m; ep BBC-tv arts series 'Arena'
Sunset People [Jana Bokova] doc/110m; ep (1984) BBC-tv arts series 'Arena'
The Caravaggio Conspiracy [Nigel Finch] doc/60m; ep BBC-tv arts series 'Arena'
Beat This! A Hip Hop History [Alan Yentob & Dick Fontaine] doc/58m; addph: Sandi Sissel; special BBC-tv arts series 'Arena
The Sword and the Shield [Ian Duncan] doc/60m; BBC-tv doc series 'SOE'
Francis Bacon [: The Brutality of Fact] [prod: Michael Blackwood] doc/58m/16mm; ep BBC-tv arts series 'Arena'
Ligmalion: A Musical for the 80s [Nigel Finch] docudrama/89m; ep BBC-tv arts series 'Arena'
Khun Or - The Reed that Bends [David Wallace] dram doc/49m; ep BBC-tv series 'Global Report'
The Triumph of the West [ep #5 'East of Europe' dir by Ann Hummel] 13-part doc series;